LIVING AND WORKING WISELY IN A NON-STOP WORLD
"An Oasis in Time is a book that will vastly improve the quality of life in a hectic world"
– Cal Newport, international bestselling author of Deep Work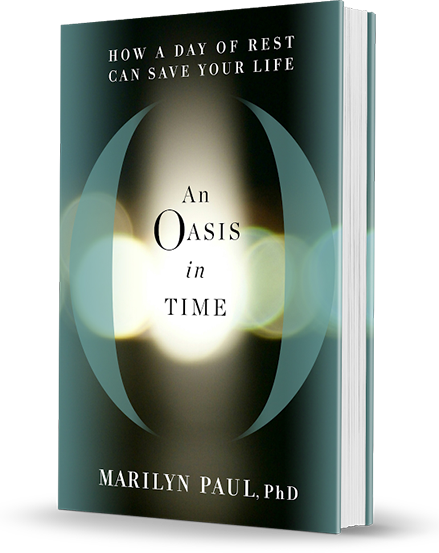 One big question of our lives is how do we put down our to-do list and phone and just live?
An Oasis in Time offers key thoughts and practices for change. Join me in exploring the many ways that we can restore the life force to our overcommitted lives.
Life is going by in a blur. Demands increase. The to-do list grows. The pressure is overwhelming. It's hard to know what to do next. The solution? Stop. Yes, stop. Replenish. Reset your body, mind, and heart. Get going again with new perspective, purpose, creativity, and energy. Restore the power of rhythm to your life. Try the life-transforming practice of an Oasis in Time every week.
Based on practices in the Western spiritual tradition, An Oasis in Time is a time-tested way to renew heart and soul regularly.
An Oasis in Time is chock full of tips, stories, and tools that can restore more vitality and purposefulness to your life. Author, speaker, and organizational change consultant Marilyn Paul shows you how to harness the power of rhythmic rest and restore your focus on what is most meaningful.
Marilyn gives you a practical set of tools and encourages you to start small: practice your Oasis in Time for one hour a week. The book provides actionable guidelines for how to plan, how to slow down, how to put down your phone, and how to restore yourself at the deepest levels.
With this book as your guide, you can go off the clock, and off the hook, regularly, knowing that when you return to the firehose of life, you will be more prepared than ever to actualize your life's purpose.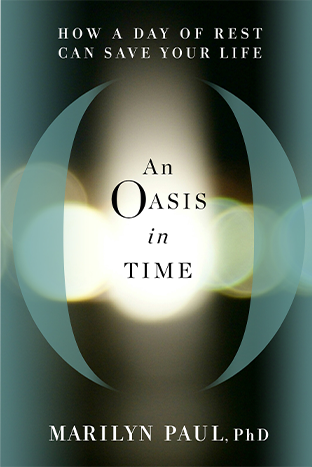 Get your An Oasis in Time Starter Toolkit
Experience Oasis time relief this week
PRAISE FOR AN OASIS IN TIME
"We all know it's a good idea to take a break from work, but how many of us actually do it? The practical advice in Marilyn Paul's new book is precisely what we need to close the gap between what we know we should do, and what we actually do. The proof? It's Friday evening and I'm turning off my computer for the weekend. Thank you, Marilyn!"
"If we don't refuel, we run on empty. Marilyn Paul explores the power of respite and restoration – well-known in the ancient traditions of the world and confirmed by modern neuroscience – with heart, soul, and many practical suggestions. A distinctive and extremely useful book."
"An Oasis in Time is just what the doctor―and our loved ones―ordered. Marilyn offers wise, practical steps to finding and protecting your own place of healing, peace, and renewed connection―with ourselves and those we love. An invaluable voice for survival in today's 24/7 hyper-connected world."
"At a time when many of us feel too busy to breathe, that our work is never done, and that the exhausting "everydayathon" of modern life will never stop, Marilyn Paul gives practical guidelines on how to plan for regular time off, and shows how starting small, slowing down and keeping it simple can reconnect us with what's most important and help us reclaim our souls."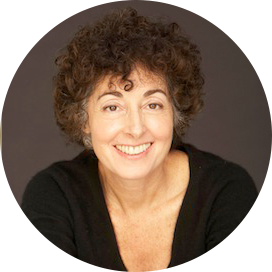 Marilyn carves out innovative pathways to productivity. She draws on her extensive consulting and coaching experience, her academic originality, and the power of traditional wisdom to create valuable learning experiences for a wide range of people. She brings thoughtful integrative approaches to a wide range of individual, team and organizational clients.
She helps her clients learn new ways to enhance their energy, focus and joy as they engage with their creative (and their boring) work. Sometimes enhancing productivity seems paradoxical:
Building supportive connections is as important as naming your priorities
Taking items off your to-do list is as important as putting them on
Stopping completely is as important as surging forward
Marilyn is always learning from her own and others' experiences. Overwhelm has led her to significant burnout and a need to completely rethink her approach to getting things done. Marilyn has learned a lot from her own experiences with ADD and being the mom of an ADHD kid. She has learned how to look at challenges as assets and to develop profound self-knowledge as a way of navigating this non-stop world.
Marilyn earned a Ph.D from Yale University in Organizational Behavior and an M.B.A. from Cornell. She has taught at Colby College, the Hebrew University of Jerusalem School of Public Health Yale School of Medicine and the Mass General Institute for Health Professions. She was selected as a top 100 Leadership Speaker by Inc.com for 2018
Marilyn lives in the Bay Area with her husband and teen-age son. They have a flourishing fig tree and a fragrant herb garden in their back-yard.
As a recognized dynamic public speaker and engaging presenter, Marilyn brings humor, compassion, dynamism, and deep wisdom to her work. She has been recognized as a Top 100 Leadership Speaker by Inc.com.
TOPICS FOR TALKS, KEYNOTES & WORKSHOPS
Marilyn will work with you to customize a talk that will meet your needs. Sample topics for talks, keynotes and workshops that you can choose include:
Mounting evidence shows that true renewal time is key to productivity.
Relaxed social time is essential for health and longevity.
Marilyn provides actionable tips on how to stop in a non-stop world
Living Well in a Non-Stop World
Integrate Western spiritual teachings about taking Shabbat/ Sabbath with mindfulness and yoga practices to relieve work pressure
Reduce the stress of relentless action taking
Craft renewal time with support
New Approaches to Personal Productivity
Define and create your path to personal productivity
Find and establish systems and structures to channel your creative energy
Implement state-of-the-art wisdom on changing how you get things done
Is Moving Too Fast Slowing You Down?
Develop a work culture of true productivity
Challenge widespread misinformation about workplace productivity: eg. working longer hours does not enhance work outcomes
Recognize that rushing can create extra work. Poor handoffs and unclear agreements create costly misunderstandings
Tips On How To Take A Break And Boost Your Creativity
Writer Kevin Kruse interviews Marilyn Paul for LeadX.
Marilyn Paul On Why You Need A Day Of Rest
Listen to Marilyn Paul discuss her book An Oasis in Time in the SuccessTalk Podcast.
Finding Rest In A World That Just Wants You To Keep Going
Featured In Spirituality & Health